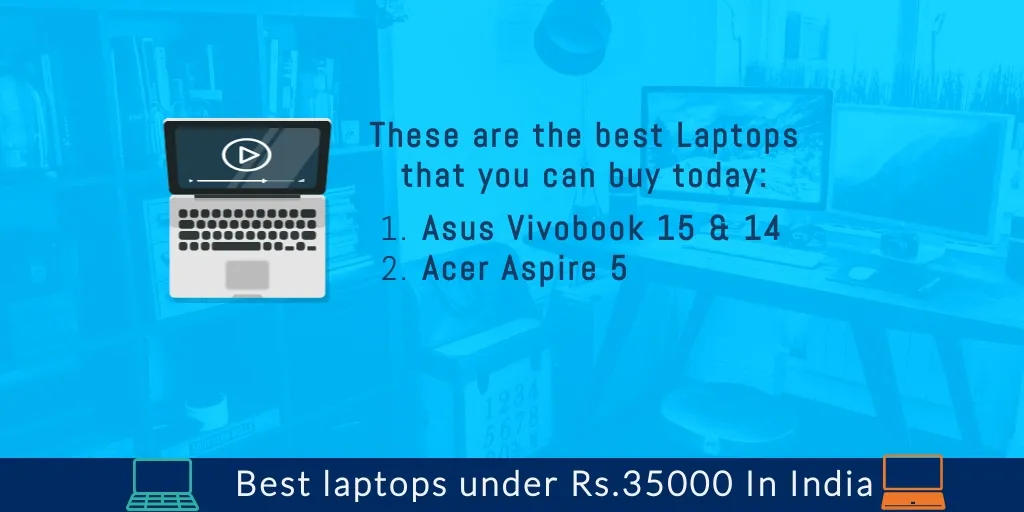 Are you looking for the best laptop under Rs 35,000 and unable to make the right decision? If so, this article will help you make your decision.
In this, we talk about some of the best laptops under Rs 35000 that you can buy today. It's always challenging to choose a laptop in this budget range because you got many options to choose from this range. As a result, selecting the perfect laptop for you might seem to be a very confusing task.
The good news is that in the year 2021, you do not need to spend a lot of money to purchase a laptop that would help you with your regular day-to-day tasks. Before we start this list, it is important to note that in the Rs 35,000 range, you will not get a feature-loaded laptop with top-of-the-line specifications.
So, let's look at the best laptops under Rs. 35000 budget
These are the best Laptops under Rs 35000 that you can buy today:
1.Asus Vivobook 15 & 14
2.Acer Aspire 5
Asus Vivobook 15 & 14
The Asus Vivobook 14 and Vivobook 15 is currently the best laptop in the said price segment and for the right reasons. The specifications offered by these laptops are excellent given the price point, and they also look pretty stylish. Both laptops are provided in Intel and AMD processors and have different screen sizes across the country. If you want to use it for casual gaming or tasks that require better performance, you can opt for the AMD variant. Else, you can opt for the variant powered by the Intel processor.
Pro of Asus Vivobook 15 & 14 :
1. Stylish design
2. Powerful Performance
3. Upgradeable to Windows 11
4. Easy to upgrade (RAM & SSD)
5. Compact and lightweight
6. Good quality display with minimum bezels
7. MSOffice included
8. Good quality keyboard
9. Fast charging
Cons of Asus Vivobook 15 & 14
1. Only one USB 3.0 Port
Acer Aspire 5
The Acer Aspire 5 is our second choice on the list of best laptops under the Rs 35000 Range. Acer is known for providing its customers with affordable products with impressive features and specifications. The Aspire 5 stands true to Acer's concept of giving products at an affordable price range. The laptop is powered by the Intel Core i3 11th Gen processor, a sufficiently powerful processor for your daily requirements.
Pro of Acer Aspire 5 Laptop:
1. Good design and build quality
2. Latest and powerful chipset
3. Upgradable to Win 11
4. NVMe SSD
5. Backlight keyboard
Cons of Acer Aspire 5 Laptop:
1. Not Have Full HD Display